So I'm married.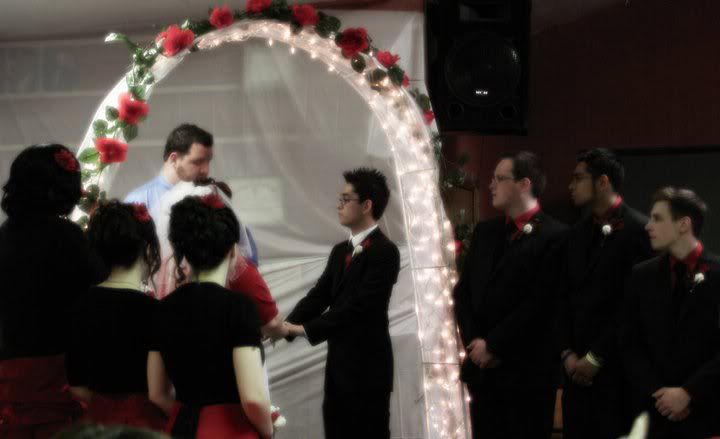 This photo is cutting out my maid oh honor and one of Henry's groom's men.

OH MAN!
I had a near death experience the other day.

So I had to tell someone.
Today I was getting ready for work, doing my hair and makeup... ya know... being a girl XD

I took my pencil sharpener over to the trash to sharpen my eye liner pencil and there were random feathers on it ...wtf? So I took off the feathers and they were a cream color and I just flicked them to the side and went to do my makeup.

In the corner of my eye I saw this creamish whitish thing slowly falling down in front of me... I thought it was the feather from earlier so I was like WHATEVER DOINZ MY MAKEUPS.

Finally I notice it's just like FLOATING IN FRONT OF ME.
So finally I look and IT'S A HUGE WHITE SPIDER AND IT WAS LIKE OHHH HIII.

I screamed.
Like a girl.


My 12 yr old sis had to come in and kill it.


Don't judge me.


My wedding was amazing.
BITCHES I HAD CUPCAKES!
RAINBOW CUPCAKES!


My cake topper.
Made by me~~~~

We had a bird theme.

MORE PICS LATER.